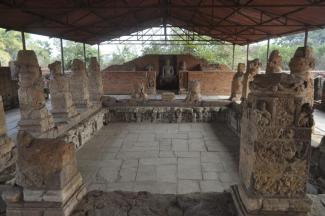 Lamar Dodd School of Art | S150
Vihāra Project' International Research Workshop
October 28 - 29, 2021
Program Overview
With virtually the sole exception of a meteoric period of fluorescence during the much-lauded Pāla-Sena period in Eastern India (8th–12th centuries CE), the fate of Buddhist monastic institutions throughout the Indian subcontinent during the post-Gupta epoch has long been viewed – and continues so with remarkably entrenched consistency – through the narrative lens of decline and disappearance. This construct of a largely uniform and unceasing descent, however, has at present become increasingly difficult to reconcile with the known archive of medieval South Asian Buddhist material culture, which Ronald Davidson in his study: Indian Esoteric Buddhism. A Social History of the Tantric Movement aptly noted can be distinguished for its "excessive richness …. increased almost daily by excavations and epigraphic finds – [which] makes this perhaps the most intellectually challenging epoch of Indian history." [30]
Pursuant to Professor Davidson's characterization, this Workshop will be oriented towards both collating and (re)interpreting under-represented aspects of the extant art historical, archaeological, epigraphic and textual corpora from the early medieval period (6th-9th centuries CE), in order to assess the ways in which these materials may inspire a corrective imperative to the prevailing vision of Buddhist monastic history in South Asia. Presentations during the workshop will place emphasis, in particular, on examining the potential utility of generating regional histories of Buddhist monasticisms, as opposed to the outdated, reified mode of an all-encompassing unilinear historical narrative. As such, a focal point of the workshop will be to engage and contextualize early medieval Buddhist material culture from both within and beyond Eastern India, including the Western Deccan, Dakṣiṇa Kosala and Magadha, documented during recent fieldwork in India undertaken by the KAKEN 'Vihāra Project' Art and Archaeology Research Team in 2019 and 2020.
Collectively, this evidential material appears to attest to the vibrancy of diverse regional centers of early medieval Buddhist monasticism, suggesting that the post-Gupta epoch was, far from being a period of fracture, instability and decline, one of dramatic transformation and evolution, witnessing, for example, the maturation of 'the' Mahāyāna and the early appearance of esotericism, each attended by myriad changes in ritual practice, doctrinal inquiry, iconographic and architectural innovation, as well as, perhaps significantly, conservatism.
View Full Program and Schedule of Presentations here.