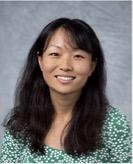 Dr. Ling Ma
History
State University of New York Geneseo
Virtual Event on Zoom
Tue, 11/15/2022 - 4:00pm
Virtual Event, 4:00-6:00 PM
Join us for a talk with Dr. Ling Ma (State University of New York, Geneseo), "Rediscovering Abortion by Turning Away from It: Researching Abortion in Early Twentieth-Century China."
4-5pm – publishing Q&A with graduate students ONLY*
5-6pm – research talk and Q&A*
*The Zoom link is the same for both sessions; please only join for the session you are interested in.
To register for this event, please click on the link or scan the QR Code below: https://zoom.us/meeting/register/tJUtcuytqj8oGdXFKyYagNws_7zX8VsHGob9.