Image: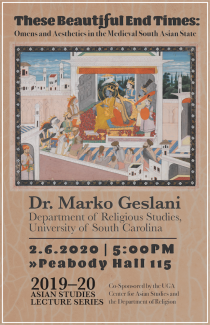 Marko Geslani (PhD, Yale 2011) is a historian of religion specializing in ritual studies and medieval Hinduism. His first book, Rites of the God-King: Śānti and Ritual Change in Early Hinduism (OUP 2018), forms a historiographic critique of Hinduism through a history of omen-appeasement (śānti) rituals, from late Vedic ritual manuals to medieval Hindu purāṇas. His current research explores the role of the astrological tradition (jyotiḥśāstra) on the problems of personhood and state formation in early Hinduism. He is also researching the recent history of Hindu studies in the North American Academy from the perspective of Asian American studies.
Professor Geslani teaches a range of courses in Hinduism and Buddhism, method and theory, Orientalism, and the critical history of religious studies.
Observers of Hinduism have long been transfixed by two countervailing extremes: the rigorous austerity of its asceticism and the unfettered sensuality of its art and architecture. One might pose these extremities in historical terms: how is it that a society supposedly governed by Brahmanical purity and discipline produced such enduring monuments to aesthetic imagination as, say, Khajuraho or Thanjavur?
Geslani's presentation, The Beautiful End Times: Omens and Aesthetics in the Medieval State, explores the role of omenology in formation of Brahmanical state ideology (rājadharma) during the Gupta period (4th-6th centuries CE). It is well known that Brahmanical legal and social thought developed in the early centuries of the common era, in historical earshot of earlier social and cultural defeat at the hands of non-Brahmanical groups. Part of this early Brahmanical ideology proposed a cyclical and degenerative theory of time, which posited the present historical era as the fourth and final age of strife (kaliyuga). Recent evidence shows that although it was not a Brahmanical tradition, astral science (Jyotiḥśāstra) both contributed to Yuga theory and integrated Brahmanical anxieties about social decline. Attending to the theories of nature found in omenological texts of this astral tradition shows how Brahmanical prophecy may have been transformed into an activist program of state building through beautification, one that would reverberate in later Hindu theology.
Co-Sponsered by the UGA Center for Asian Studies and the Department of Religion